[Impact of approaching typhoon No.14]
J-WAVE has announced that the market area at INSPIRE TOKYO will close at 6pm on Monday, 19th September (Public Holiday) due to the risk of worsening weather conditions.
CRAFT SAKE WEEKEND will close at 5pm with last orders at 4:30pm. Thank you for your kind understanding.
https://www.j-wave.co.jp/special/inspire2022/info.html#date20220918_1
After three long years, the much-anticipated event for sake fans around the world returns!

"CRAFT SAKE WEEK", a Japanese food and sake festival, that has attracted over 600,000 visitors to date, is back for three days only as "CRAFT SAKE WEEKEND" in Yoyogi!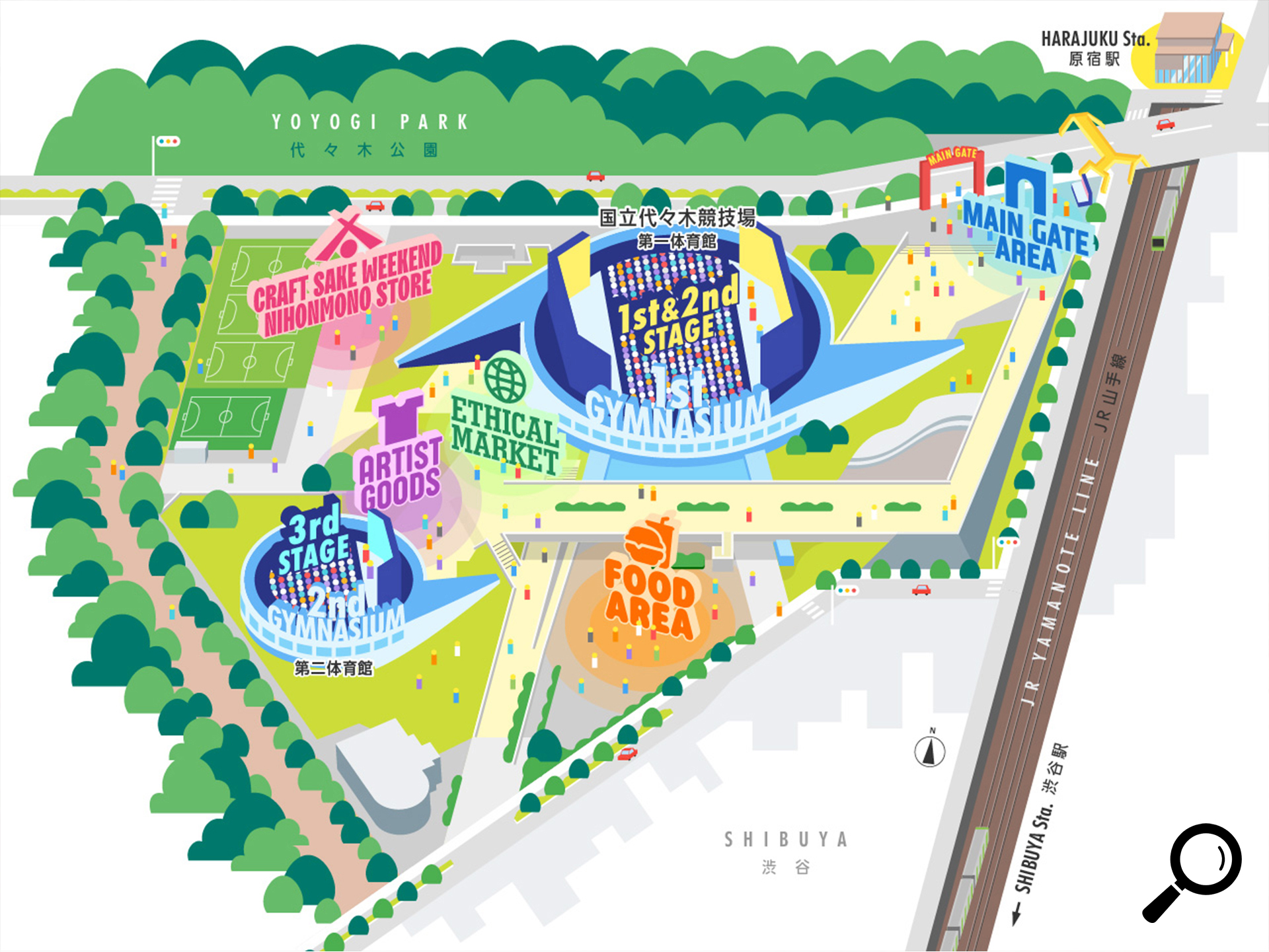 CRAFT SAKE WEEKEND 2022
at J-WAVE INSPIRE TOKYO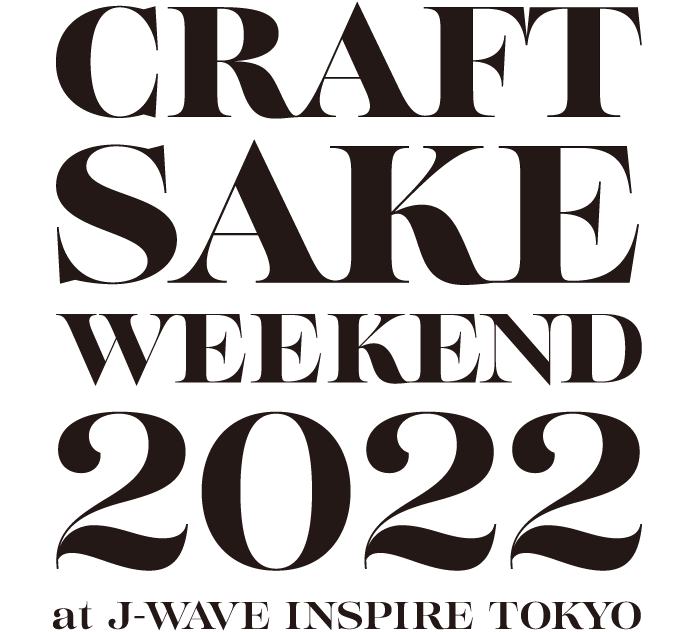 [VENUE]
Yoyogi National Stadium
(Futsal Court Area)
2-1-1 Jinnan, Shibuya-ku, Tokyo
[DATE & TIME]
Saturday, Sep.17th - Monday, Sep. 19th, 2022
Noon-8:30pm (L.O. 8:00pm)
[BREWERIES]
10 different breweries each day, 30 breweries in total
[HOW TO JOIN THE EVENT]
STEP 1
Purchase a "CRAFT SAKE STARTER SET."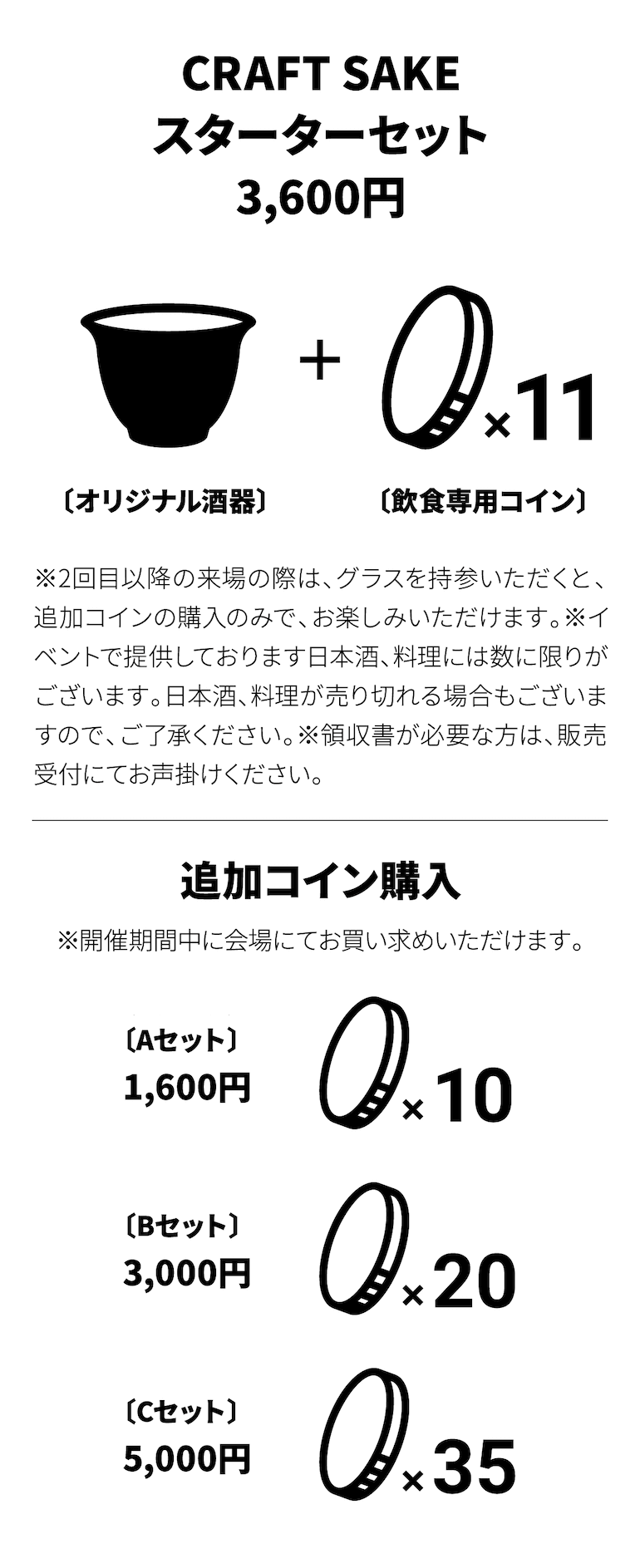 STEP 2
Coins can be used to purchase all sake and food.
*The CRAFT SAKE STARTER SET must be purchased in order to drink at the event.
Rule

Sake glass can be used repeatedly during the event.
*17-19 Sep, 2022.

If you are planning to only enjoy food at the event, purchase an Extra Coin Set for use at the food trucks.

Purchased sake can only be poured into the CRAFT SAKE STARTER SET's sake glass.
*Sake glasses from previous events cannot be used. Please purchase a new starter set.

Please refrain from bringing in food and beverages other than those sold at the INSPIRE TOKYO venue.
[Please Note] ● Food & drink coins, sake glasses can not be returned for refund. Please understand that refunds & replacements will not be given for lost or broken drinking vessels. ● Please make sure to dispose of all your food containers and refuse at the recycling stations around the event area. Please be aware that staff will remove any unattended plates or containers left on the tables. Also, please remember that guests are responsible for their own personal belongings and valuables throughout the event. ● The drink & food menu, and event schedule are subject to change without prior notice due to unforeseen circumstances such as weather or COVID-19 related restrictions ● Any unused coins cannot be exchanged for refund. ● Please remember to drink responsibly! ● Sake will not be sold to minors or anyone driving a car to-from the event. ● No refunds will be made for cancellations after the event. Please understand this in advance. ● Pets are not allowed in the food court area.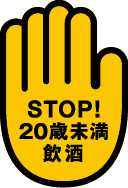 Access
Yoyogi National Stadium
(Futsal Court Area)
● 5-min walk from Harajuku Sta. (JY19) on JR Yamanote Line
● 15-min walk from Shibuya Sta. (JY20) on JR Yamanote Line.
● 5-min walk from No.1 Exit of Meiji-Jingumae Sta. on Metro Chiyoda Line (C03) or Fukutoshin Line (F15).
● 10-min walk from Yoyogi-Koen Sta. (C02) on Metro Chiyoda Line.

Google Map

Discover Japan [Nihon] through authentic craftsmanship [Honmono] at the NIHONMONO Store -- produced by Hidetoshi Nakata, navigator of the popular "NIHONMONO" show.

The "NIHONMONO Store" is inspired by the "TDK VOICES FROM NIHONMONO" show, which is broadcast on J-WAVE every Sunday at 12pm, and navigated by Hidetoshi Nakata.
The pop-up store offers snacks from around Japan that have been recommended by sake breweries, and specialty goods that have been featured on the show.
In addition, the "NIHONMONO KITCHEN" will offer a menu specially designed for this event!

Enjoy music, markets, food -- right in the heart of Tokyo!
The ultimate urban festival from J-WAVE! Coming soon!
"J-WAVE LIVE" is a major J-WAVE summer live event that has been held annually since 2000. From this year, under the theme 'TOKYO CULTURE TO THE WORLD', the event has evolved into "J-WAVE presents INSPIRE TOKYO ~ BEST MUSIC & MARKET", an urban festival featuring live performances, as well as a food court and market filled with the originality that only Tokyo can offer, making the whole day a casual, fun and delicious experience.
We aim to create an event where people from all over Japan and the world gather in Shibuya for this one day, and where they can "understand the culture of Tokyo today".
In addition to "CRAFT SAKE WEEKEND" and the "NIHONMONO Store", the venue will also host the "CURRY COLLECTION", where popular curry shops in Shibuya will have pop-up food stalls, and the "MUGI FES" [Wheat Festival], where popular bakeries will sell their products on a daily basis.
Admission to the market area is free, so even those without a ticket for the live show can enter free of charge.
It's like having the world's best sake sommelier in the palm of your hands
Sakenomy is a sake sommelier app that gives you access to over 1300 sake breweries and information about tens of thousands of sake labels.In addition to a wealth of information about how to enjoy sake and food pairings recommended by sake brewers, you can find answers to questions such as "What does this sake taste like?", "What is the best food pairing for this sake?, and "Which sake is recommended for specific cuisines? Sakenomy will also remember the sake you have tasted, and provide suggestions of other sake that you may wish to try.Get your own personal sake sommelier today!
Learn more