Thanks for joining us at CSW 2023.

We hope to see you next time!

We will keep you posted about the next event
through our website and SNS!

Please follow our official accounts.
CRAFT SAKE WEEK,the long-awaited SAKE
event finally returnsto Roppongi,Tokyo,in April 2023!
CRAFT SAKE WEEK 2023
at ROPPONGI HILLS

HOW TO JOIN THE EVENT
STEP 1
Purchase a CRAFT SAKE STARTER SET.

STEP 2
Coins can be used to purchase all sake and food.
*The CRAFT SAKE STARTER SET must be purchased in order to drink at the event.
Rule

Sake glass can be reused during the event.
*21-30 Apr, 2023.

If you are planning to only enjoy food at the event, purchase an Extra Coin Set for use at the food trucks.

Purchased sake can only be poured into the CRAFT SAKE STARTER SET's sake glass.
*Sake glasses from previous events cannot be used. Please purchase a new starter set.

Please refrain from bringing in food and beverages other than those sold at the CRAFT SAKE WEEK venue.
Please Note
●Food & drink coins, sake glasses can not be returned for refund. Please understand that refunds & replacements will not be given for lost or broken drinking vessels.
●Please make sure to dispose of all your food containers and refuse at the recycling stations around the event area. Please be aware that staff will remove any unattended plates or containers left on the tables. Also, please remember that guests are responsible for their own personal belongings and valuables throughout the event.
●The drink & food menu, and event schedule are subject to change without prior notice due to unforeseen circumstances such as weather or COVID-19 related restrictions
●Any unused coins cannot be exchanged for refund.
●Please remember to drink responsibly!
●Sake will not be sold to minors or anyone driving a car to-from the event.
●No refunds will be made for cancellations after the event. Please understand this in advance.
●Pets are not allowed in the food court area.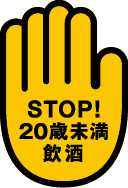 Access
Roppongi Hills Arena
6-9-1 Roppongi, Minato-ku, Tokyo
https://www.roppongihills.com/en/facilities/arena/
● From Metro Hibiya Line Roppongi Sta. (H04), Exit 1C: 0minute (Concourse is directly connected).
● From TOEI Oedo Line Roppongi Sta. (E23), Exit 3: 4minutes walk.
● From TOEI Oedo Line Azabu-juban Sta. (E23), Exit 7: 5minutes walk.
● From Metro Namboku Line Azabu-juban Sta. (N04), Exit 4: 8minutes walk.
● From Metro Chiyoda Line Nogizaka Sta. (C05), Exit 5: 10minutes walk.

Google Map
主催:JAPAN CRAFT SAKE COMPANY 
特別協⼒: 六本⽊ヒルズ
協賛:ブリティッシュ・アメリカン・タバコ・ジャパン合同会社、興和株式会社、ベルキューブ、ポッカサッポロフード&ビバレッジ株式会社、コクヨ株式会社
協⼒: 株式会社ハーベス、『TOKYO M.A.A.D SPIN』、NIHONMONO、シャープ株式会社
後援: J-WAVE 81.3FM 
会場構成: Atelier Tsuyoshi Tane Architects 
公式アプリ: Sakenomy 
メディアパートナー: GOETHE 
運営: 株式会社サニーサイドアップ
It's like having the world's best sake sommelier in the palm of your hands
Sakenomy is a sake sommelier app that gives you access to over 1300 sake breweries and information about tens of thousands of sake labels.In addition to a wealth of information about how to enjoy sake and food pairings recommended by sake brewers, you can find answers to questions such as "What does this sake taste like?", "What is the best food pairing for this sake?, and "Which sake is recommended for specific cuisines?" Sakenomy will also remember the sake you have tasted, and provide suggestions of other sake that you may wish to try.Get your own personal sake sommelier today!